Most of our wheels are built with spokes made by Sapim, which is well known for its top quality products.
The spokes are available in 2 standard surface finish, silver or black, but from a structural perspective they are the same.
For most wheels we use double-butted spokes (thicker section at the ends, thinner in the middle). The cold forging process used to create the butted profile provides greater strength than is generally achieved with a constant section.
These are our most used spokes:

Sapim CX-Ray
The CX-Ray has one of the best results in fatigue tests compared to any other spokes. Its strength and flexibility make it suitable for most uses, thanks to the elaborate production process and a special treatment of the stainless steel alloy.
Spoke dimensions: 2.0 – (0.9×2.2) – 2.0 mm.

Sapim CX-Sprint
Optimal aero shape thanks to the elliptical profile.
The shape is similar to the CX-Ray with the aero central part offering a little more stiffness, less elongation and increased fatigue resistance.
Spoke dimensions: 2.0 – (1.2 x 2.25) – 2.0mm

Sapim D-Light
It's a double-butted spoke that with its specific profile offers high resistance.
The shortened full thickness section at the threaded end reduces the weight of the spoke and consequently the rotating mass. This benefits the wheel's reactivity.
Spoke dimensions: 2.0 – 1.65 – 2.0mm

Sapim Leader
The Leader is the recommended choice for everyday or heavy duty use.
These spokes, typically used in basic wheelsets, are still a quality product.
Spoke dimensions: 2.0mm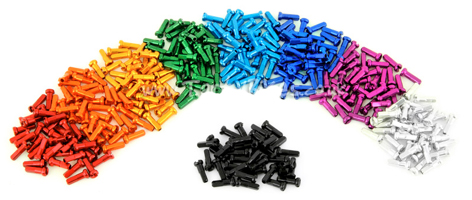 Nipples
The nipple is the connecting point between the rim and the spoke. Sapim wide range of brass and aluminum nipples offers maximum precision and quality.